Turkish Copper Pot | 1 Yogurt Bucket

Please click HERE to see the rest of our Kitchenware selection
Visit our sister store Turkishmart, to see the wide collection of Turkish kitchenware products
This lovely copper bucket with a handle is hand-hammered copper from the inside of a tin.
It can be used to make yogurt. Copper Bakrac is an excellent choice for fermenting delectable yogurts.
Turkish Copper Pot is entirely handcrafted. The outside embroideries are handcrafted in Kahramanmaraş. It is made of copper that is 1 mm thick.
The interiors are plated in the tin. The outer parts are protected by a coating that keeps the shine. It can be used to ferment yogurt.
It easily fits into the refrigerator.
Yogurt Bucket "Yogurt Bakraci" Silver style, with handle
1kg weight
15 cm height, 16 cm diameter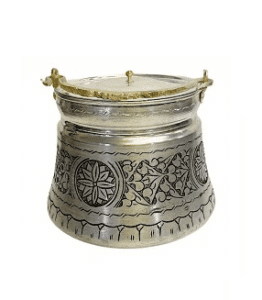 Watch the video of Copper pots making in Istanbul. It is a true Art!