FREQUENTLY ASKED QUESTIONS
What are the "Free Shipping" rates?
Free shipping starts from $49.99. Please see below table for the rates.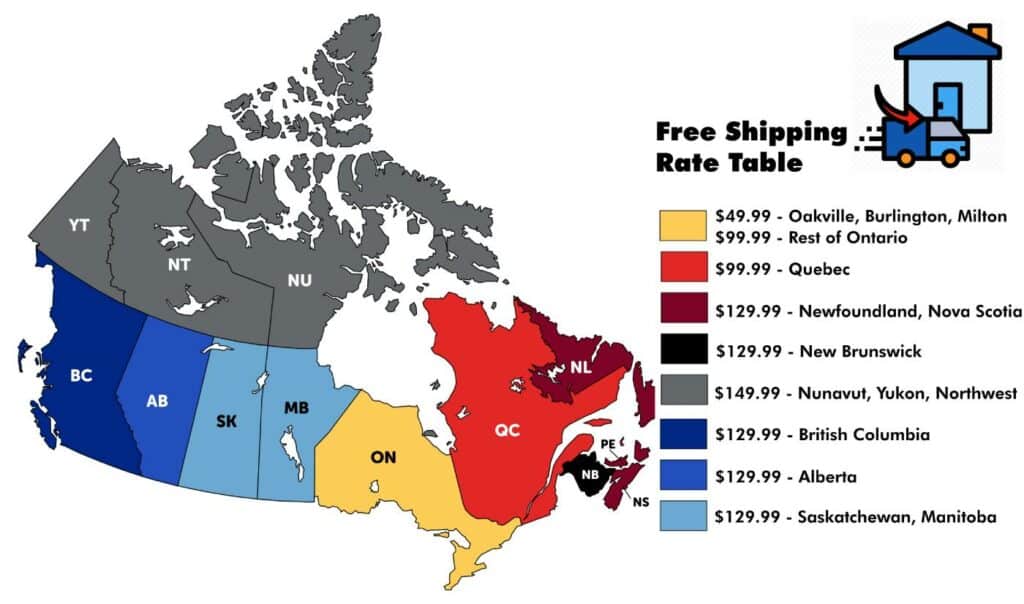 What is the currency used in your website?
All the pricing is in Canadian Dollars. Definitely a PLUS for US Shoppers.  🙂
Are you an online store?
Yes, we are.

Where are you located?
We are a Canadian company located in Oakville – Ontario.
Do you have any storefront?
No, we don't. We ship all orders to your home. Free shipping starts at $49.99 for Oakville, Milton and Burlington. For all other areas, please check the map at the top of this page.   
How long does it take to receive an order?
It takes 3 to 6 business days to receive your order in Ontario and 5 to 9 days for national orders. However, we are doing everything to provide a faster shipment and we are pretty successful about it. Please feel free to read our customers feedback on and see what our customer says about shipments:
Testimonials Page – Our website –

 

Current score: 

Excellent 4.6/5

Trustpilot – Worldwide trusted review platform – 

Current score

: Excellent 4.87/5 verified reviews
Facebook Review – Social media platform – Current score: Excellent 5/5
What payment method can I use?
We accept Paypal, VISA and MasterCard payment through PayPal Canada.
What if I do not have a Paypal Account? Can I still shop?
Of course.  If you don't have a PayPal account, that is not a problem. After the Check Out page you will be directed to PayPal's website. Simply check "Don't have a PayPal account" option and PayPal will allow you to pay with your Visa or Master credit card.
What or who is PayPal?
PayPal is faster and safer way to make an online payment. PayPal uses industry's most secure data encryption technologies. Turkish Bazaar partnered with PayPal Inc. to provide our customers a secure system for online payments.
Do you keep my financial information?
No,Turkish Bazaar does NOT keep your financial information. All the financial transactions are completed through PayPal secure transactions..
RETURN POLICY
What is your Return/Exchange Policy?
Due to safety procedure, we do not accept any returns or exchanges. 
What if my packaged is damaged during shipping?
If you receive damage package/product, please contact us via email info@turkishbazaar.ca with your invoice number and a picture of the damage product within 7 days. Turkish Bazaar will open a ticket with the carrier to help to make a claim. 
I ordered some fresh fruit, but tracking ID mentions 10 days. Can I get a refund for my order?
Please check with us for the average duration for your location before you place an order. Turkish Bazaar can not expedite the order after it is placed or can not refund your order after it is shipped. FREE SHIPPING option received is not Express Shipping. If you need Express Shipping option, please let us know and we will invoice you the difference. 
How long does it take to get my refunds?
Please allow 7 business days.
What happens if my package lost?
Turkish Bazaar will not be responsible any lost packages. We strongly recommend to use a Postal Service with tracking feature. If you have a  tracking ID, and your package is not delivered, Turkish Bazaar will open a ticket with the carrier to help you track your package. Carrier will be responsible for the lost packages and Turkish Bazaar does not claim any responsibility. For United States or International orders, Canada Post provides tracking ID with Expedited Parcel Service and Xpresspost Service. Other services do not have Tracking ID. If your package is lost with other services, we can not claim it for you. 
What is the warranty period for Arzum Coffee Maker?
Warranty period in Turkey is for 1 year. Unfortunately, we can not offer this in Canada because, we do not have a service department. However, to give you a piece of mind that your product will be in a good working condition, we provide a 30 day warranty period from the time you receive your equipment.
Within 30 days, if you experience any issues with your Arzum Coffee machine, call us and we will replace your coffee machine free of charge. Please contact us as soon as possible to open a ticket. Return shipping charges will be paid by the customer.
Does Arzum Coffee Maker boil the coffee?
No, it doesn't. This question came from one of our customers recently. It uses a sensor to cook and avoid any spills. It cooks the coffee perfectly each time without the need of boiling. This coffee maker doesn't have any different boil settings if that is what you are interested in.

Do you do partial shipments if an item is in backorder?
No, we don't do any partial shipments.
How do I contact you?
Best way to contact us via email info@turkishbazaar.ca. You can also call us and leave a voice mail at (647) 812-7020. We will return your call in 24 hours.
How does Free Shipping work?
Free Shipping only applies within Canada. Please simply choose the "Free Shipping" option at the checkout page. A tracking number will be provided to you for parcels.  All t-shirts qualifies for Free Shipping . Please note Canada Post does not provide tracking number for lettermails.
How are the Shipping & Handling Fees calculated?
Turkish Bazaar is fully integrated with multiple 3rd party shipping carriers. Shipping & handling fees are calculated in real-time based on your order's weight and dimensions, and it is displayed at the check out page.
What do you mean by  'available on backorder'?
It means the item you selected is not in stock or only a portion of your order amount is in stock. It will take some time to re-stock the item depending on the expected shipment.
What happens if the product I have purchased is sold out?
We try our best to ensure we have stock on all items on TurkishBazaar. However, keep in mind that most of our supply may be limited for some products. In the case we are out of stock of an item, we will call or email you to discuss possible alternatives.
"How do I make Turkish Coffee?
Here is a short video. Enjoy it. 🙂
https://turkishbazaar.ca/how-to-make-turkish-coffee/