Domates salcasi | Tomato Paste | 170g
Please click HERE. to add other Turkish paste and spreads to your order
Click HERE to see the rest of  our Turkish pasta, tomato, and peppers selection in our sister store Turkishmart
Tat Tomato paste in an easy to open Tin
Cooking tomatoes for several hours to reduce the water content, straining out the seeds and skins, and cooking the liquid again to reduce the base to a thick, rich concentrate is how tomato paste is made.
Tat's Domates salcasi is made with hand-picked, natural, and fresh tomatoes.
Even with just a spoon, Tat Tomato Paste, which continues to be an indispensable flavor of Turkish cuisine, adds a unique flavor, color, and smell to your dishes.
Click here to see the best ways to use Tomato Paste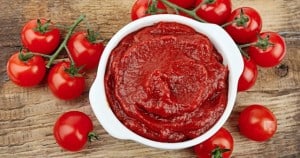 How to Turn Tomato Paste into a Flavorful Pasta Sauce